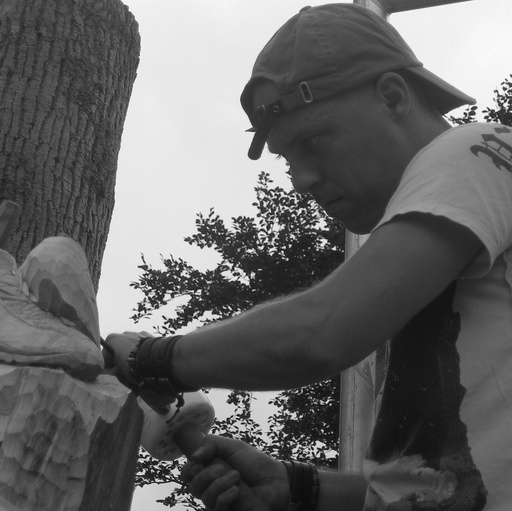 Sculptures in wood and stone
His missions, which come to him from across the country and from different segments of society, are usually made in order of receipt. The clients, both individuals as businesses but also government institutions and foundations, knows the way towards his studio. He has to include the World Wildlife Fund to one of his clients as well as several municipalities in the Netherlands. Even producers of the media knows to find him when they are looking for something special. The assignments vary greatly in type and size. Of stone or wood, both is no problem. Yet there is a condition which suggests the sculptor himself. The material used must provide quality and quantity. This means that he often uses oak and in stone marble. Clearly, the clients come to him to ensure quality and to see a sense visualized. This is exactly what this sculptor can do like no other sculptor. Probably for this reason he is frequently asked to make (grave) monuments, because of visualization of these feelings, which are a very important role. (He has already done this for many people and every time he feels himself very honored). Every time he knows to depict and describe the feelings in his sculptures, from an unexpected angle in a unique and loving way. Recently it was even so that the sculptor was commissioned, but due to circumstances the mission could not continue. Still he made the sculpture, this is then regarded by him as a free work. The reason why he still made it, is that the thoughts / feelings in him can't be eliminated. For him this is a way of dealing with these feelings, to visualize and to portray them.
If you are interested in his work or works, please call, email or SMS to:
+31 - (0)6 - 3611 0434

or
info@jck.nu
Jan-Carel
is always ready to help you even if you (as an amateur sculptor, for example) looking for advice.
Contracts: Please allow a waiting period. The delivery time may vary per project and up to 6 - 12 months depending on the size of the project.
Note by the sculptor himself:
I'm glad when I have given you some insight into my feelings and when you enjoyed my sculptures and descriptions. They are made with love and passion which I hope you can feel and see it while viewing my site. Feel free to let me know what you think of my work, so it can give me some extra incentive motivation. This can of course be positive, but also negative (both I would like to hear).