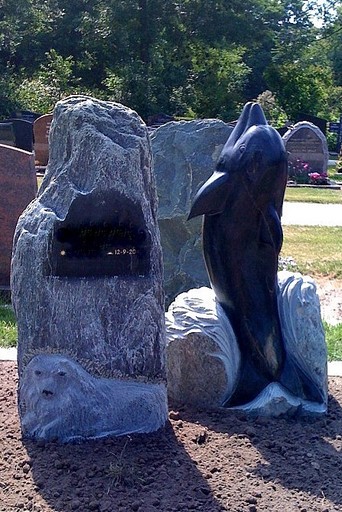 Memoriable Sculptures or Monuments
More often people search for the last resting place of their precious a memorial in the atmosphere and appearance of a personal memory. Do you want to commemorate your beloved one in a unique way? Then you can ask me for some information (without any engagement). Perhaps I can do something for you. Making sculptures is my life and I do this even though more than 30 years. On my 6th year, I already started in the workshop of my grandfather. From him I received his craft experience. In addition to my free work I make a lot of work in which contract also memorable images monuments but also urns. For these monuments I use different materials such as wood (oak), stone (marble), often in combination with metal (if desired).
Personal
The special thing about this personal approach is that I will look, together with you (the relatives) for the best translation of your wishes, ideas and memories. Through this close contact, and my knowledge there will develop a unique and memorable personal sculpture. The development is also an intensive process and often an important contribution to the rouwverwerking.
Experience and quality
As an artist I have made several grave statues and monuments. These sculptures can not be seen on my website out of respect for the families. Yet, in the diversity and quality of my (free) work you can find my years of experience. I think that it's important that you can find in all my work the priority of my professionalism in combination with my passion for making sculptures and the reflecting of my feelings in my work. Quality is a requirement for me, so my scuptures are often made from Oak or Marble.
Prodecure
How does the realization of a monument / memorial statue works? For an appointment please contact me using the address or phone number below.
After an extensive preliminary discussion where your wishes and the wishes of the deceased are being discussed, you can always ask me to make a sketch. Also, you will be asked asked in what kind of material you want the artwork in. Together with the presentation of the draft we will also discuss the costs. Do you agree with the draft, then I will start with the authorization of the cemetery and I will start the with the implementation. You should expect a period of three to six months before the work is finished. Of course you are always welcome to follow the progress of my work in between in my studio. The placement is provided by me, if desired, together with the client.
Do you have more questions about the creation of a memorial statue or monument? Please feel free to contact me.
Costs
My opinion is that everybody should be able to have a unique memorable sculpture. A personal memorial or monument is not always more expensive than the traditional offerings. By the direct contact between artist and client, the cost of a memorable sculpture is relatively low. Give me your own needs and wishes, in order to make together with you an appropriate and memorable monument.Below you will find a price indicationis to give you a directive.
Price-indication:
Wooden Crosses of Oak from €. 1.100, -
(including a hand-cut text)
Wooden sculptures from €. 2200 –
your own design. (Made of solid oak).
Standard hand-cut text entry
Wooden Monuments custom made from €. 3000 –
Includes a free introductory meeting with
the families and a draft. (see methodology)
(produced in solid oak and hand-cut standard text entry)
Stone sculptures / monuments In consultation
Possible in different types of marble and other stone types.
The above price indications are excluding VAT and placement. The license costs, fees and rules are different for each town and cemetery. You can gather more information by the manager of the cemetery
Attentie
Wood is not a stone. However, it is very durable and with the passage of time it is just beautiful. The wood is impregnated against pests and fungi after when it is finished with an organic oil. This should be done each year (in consultation it can be provided by me). However, because it 's outside, there is alway's a possibillity that tho wood can crack trhough the weatherability and high temperature. If you mind you should not opt for wood.